Profitable football trading is actually not a complicated concept.  If you only place bets where the odds are greater than the chance of the event happening, then you will be profitable in the long run.  This is the concept known as obtaining value.
The complicated part is working out the chance of the event happening e.g.  Everton are 2.0 (50%) to beat Southampton but what is the actual % chance of Everton beating Southampton?
How can Footballxg.com help?
Footballxg.com provides tools, analysis and training to help you identify and obtain value in both pre-match betting and in-play betting.  We offer a number of different subscription options:
xG Free includes the output of an advanced Poisson model which enables easy identification of games where there appears value in the odds.
xG Core provides access to 30 leagues and includes all the historical data to allow the creation and backtesting of strategies.
xG Pro (coming soon) provides a range of additional statistics, betting odds, models and leagues.
The PROP Model is a stand alone tool which identifies value from historical goals.
In-Play Odds Calculator (IPOC) provides an indication of in-play odds for a range of 1st-Half and Full-Time betting markets.
More details on each of these subscription options is below.
1) xG Free (£ 0)
Advanced stats and Poisson model across 3 major leagues.
Advanced Poisson model to help identify value in the betting odds.
A full range of xG and actual goal statistics (averages covering last 3, 5 and 10 games split by Home and Away teams.  Statistics includes 1st Half, 2nd Half and Full Game)
Leagues included:

Spanish La Liga
English Premier League
German Bundesliga
No subscription or registration is required.  The xG Free games are published twice weekly on the blog (Mondays and Fridays around 4pm).  Check out the blog for the latest post – xG Free Games.
2) xG Core (12 months = £ 119)
Advanced stats and Poisson model across all major leagues.
Includes the same data and layout as xG Free but also includes:

Additional leagues (see right hand column for coverage)
Historical data to test out old strategies or create new ones:

Data going back to 2018/19 for all the leagues listed

Future Data:

xG Predictions for the entire season to help identify value when odds are released (NB: future predictions will change as actual results are added into the model).

'In-Play Odds Calculator' (IPOC) included within xG Core for a limited time:

Enter the current score and minutes and the calculator provides the fair odds for a range of markets.
The calculated odds can then be compared to actual in-play odds to help identify value in the in-play markets.
IPOC is included with xG Pro.  As xG Pro will not launch until early 2022, the in-play model is included with the xG Core subscription for a limited time.
The xG Core games are updated twice weekly (Mondays and Fridays around 4pm).  A unique link is provided to all subscribers which grants them access to future updates and the historical data.
[Please read FAQs at the bottom of the page before subscribing.  Please also note that access is set-up manually. Once payment is received, a link to the data files will be sent as soon as possible (with a maximum of 24 hours from receiving your subscription).  There are 2 payment options below: (1) PayPal, (2) 'Debit or Credit Card' without setting up a PayPal Account]
Leagues included in xG Core:
Argentina Primera Division
Australian A-League
Austrian Bundesliga
Belgian Jupiler League
Brasileiro Serie A
Danish SAS-Ligaen
Dutch Eredivisie
English Championship
English League One
English League Two
English Premier League
French Ligue 1
French Ligue 2
German 2 Bundesliga
German Bundesliga
Greek Super League
Italy Serie A
Italy Serie B
Japanese J League
Major League Soccer
Mexico Liga MX
Norwegian Tippeligaen
Portuguese Liga
Russian Premier Liga
Scottish Premiership
Spanish Primera Division
Spanish Segunda Division
Swedish Allsvenskan
Swiss Raiffeisen Super League
Turkish Turkcell Super Lig
3) xG Pro (Coming Soon)
Advanced stats and 4 Poisson models across all major leagues.
Provides all the features of xG Core, plus:

5 individual xG models based over a range of short and medium term historical data.

xG Blend (model included in xG Core and xG Free – a blend of M2, X10, X2 models)
M1 Model (Model based on actual goals, expected goals, team strength and a number of additional inputs)
M2 Model (Model based on expected goals, team strength and a number of additional inputs)
X10 Model (Model based on expected goals over the medium term).
X2 Model (Model based on expected goals over the short term).

Additional statistics including:

xG from open play, xG from set-pieces
Tissue Odds based off historical odds.
Likelihood of team winning when scoring or conceding first.
Additional Poisson output including 'win to nil', +-1 goal handicap.
Early odds and closing odds, odds moves.

Additional leagues:

All the Xg Core Leagues plus more coming soon.

"NEW" Stand alone 'In-Play Odds Calculator' (IPOC):

Enter the current score and minutes and the calculator provides the fair odds for a range of markets.
The calculators odds can then be compared to actual in-play odds to help identify value in the in-play markets.

Access to FootballxG Telegram group for dedicated support (technical and strategy)

Coming mid-2022.  Pricing TBC.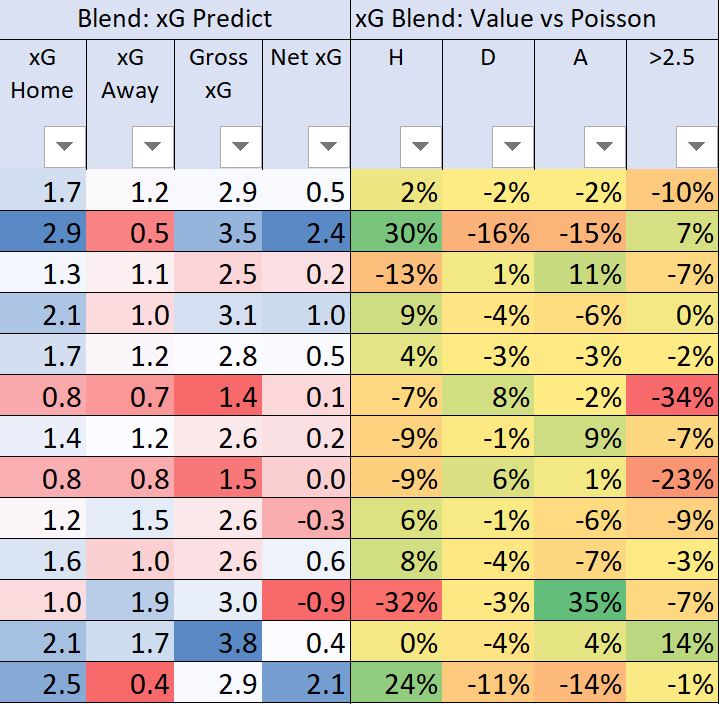 Additional leagues included in xG Pro:
Canada Premier League
China Super League
Costa Rica Liga FPD
Croatia Prva Liga
Cyprus First Division
Czech Republic Liga
India Super League
Korea K-League 1
Mexico Liga de Expansion
Poland Ekstraklasa
Serbia Super Liga
Slovenia Prva Liga
Ukraine Premier League
Bolivia LFP Boliviano
Brazil Serie B
Chile Primera
Colombia Primera
Ecuador Liga Pro
Paraguay Primera
Peru Primera
Uruguay Primera
United States USL Championship
Venezuela Liga
4) Power Ratings PROP Model (12 months = £ 49)
Excel team power ratings and historical odds profitability
Team power ratings based on historical goals.
Power ratings then converted to odds to look for potential value in games.
Profitability by teams and leagues when odds fall within ranges of the current Home and Away Odds Prices.
Data updated twice a week including provisional odds for the upcoming games (odds can then be manually overridden as needed).
Beginner Poisson model also included.
Visit the PROP Model page for more details and please read the FAQs at the bottom of this page before subscribing.
5) In-Play Odds Calculator (Free with xG Core and xG Pro subscription)
Excel model to predict in-play betting odds
Excel model to estimate in-play betting odds.
Simply enter the current score, minutes and opening odds.
The model will then estimate the odds based on historical outcomes.
In the screen shot on the right, when a home team is leading 1-0 at 70 minutes, they have historically gone on to win 78% of games.  This suggests fair odds of 1.28.  This can be further refined by leagues and opening odds.
Statistics covering 1st-half and full time are included.
IPOC model is include for FREE with xG Pro (it is also included for free with xG Core for a limited time).
No pressure to subscribe and no false promises
Footballxg was launched to help people improve their knowledge on identifying value and becoming long term profitable.
If you are looking for hot tips and instant riches then we are not for you.  Becoming profitable at football betting/trading is not easy and requires hard work and discipline.
Please see below for a list of frequently asked questions.
FAQs:
1. Why are the subscriptions only annual?
This is due to several reasons:
Profitable football trading is not easy.  We want to avoid the people who jump from system to system when they have a couple of losing bets.  We want people who are genuinely interested in becoming profitable long term football traders.
The subscriptions include access to all the historical data which is worth the annual subscription alone.
2. Do you offer a money back guarantee?
We do not offer a money back guarantee.  The subscriptions include access to historical data from 2018/19 which we strongly believe is worth the annual subscription price alone.  Standard disclaimers also apply which includes that Footballxg.com accepts no financial responsibility for any losses made from using the data provided.  Please see the legal section for further details.
3. Are there any discounts?
There are plenty of internet sites that claim their products are worth thousands and then offer a massive discount but only if you sign up within the next 24 hours.  We believe our product is the best value on the market and is priced fairly with no gimmicks.  Please reach out if you feel there is a better value option available.  As such there are no discounts offered.
4. Are prices fixed?
The price you lock in today will be the price you are locked in at until you decide to unsubscribe.
For people who are unsure of when to subscribe, the expectation is prices will go up as we start to offer more leagues and guidance.  We will aim to give plenty of warning before any price increases are implemented.
5. I'm interested in xG Pro, should I wait until that is launched?
There is no need to wait.  Everyone who is already a subscriber to xG Core will be able to upgrade to xG Pro by paying the difference in subscriptions (pro-rated for when their initial subscription started).  Nobody will be at a disadvantage from being an initial xG Core subscriber.
6. I'm short of money, which is the best option for me?
The honest answer is none of the options.  Sports trading, even when done professionally, is high risk.   You could do everything perfectly and still lose money due to variance.  Sports trading should only be done with money you can afford to lose.  We suggest to stick with the xG Free option with micro stakes until you have money you are willing to risk.
7. I bet on trades identified as value that didn't win?
The sheets show a predicted xG and the equivalent winning percentages.  Just because a trade is showing value, it does not mean it will win.  It just means that based on the data inputs the odds appear to offer value.  For example, a 9/1 shot that we believe should be 4/1 should still lose 80% of the time.  If you constantly bet with value in the long term you will be profitable.
8. What do all the different fields/statistics mean?
The xG Free spreadsheet includes a second tab which provides details of all the different statistics.  Also see question 9 below.
9. Do you have videos on how to use the products?
Great question and this is what we are currently working on (NEW: initial videos now published).
We have not been actively marketing or pushing subscriptions until all the guidance and training videos are complete.  Upcoming guidance will include:
How to use the spreadsheets and in-play model.
The importance of value, betting early and beating the closing line (top tip: never bet at kick-off time, especially in the major leagues as these prices are deemed efficient).  Even if the models are showing value to the closing price, these should be avoided.  The models do not take account of team news and so the market prices are deemed more accurate than the ones on the spreadsheet.
Staking, losing runs, and bankroll management.
Some initial guidance and tips are included in the videos section and the following blog posts xG Core Guidance and the Predictions and Trading page.
10. Other questions?
This section will expand as more questions are asked.  Feel free to use our contact page or direct message us on Twitter with any additional questions.
Register your email
Please register your email below to be provided with updates when new features are launched.