The key element of profitable football trading is to only bet when there is value in the odds.  The xG Free version includes the output of an advanced Poisson model which enables easy identification of games where there appears value in the odds.  xG Core provides all the historical data to allow the creation and backtesting of strategies.  xG Pro provides a range of additional statistics and models and leagues.  The PROP Model is a stand alone tool which identifies value from historical goals.  More details on each of the options is below.
Advanced stats and Poisson model across all major leagues.
Advanced Poisson model to help identify value in the betting odds.
A full range of xG and actual goal statistics (averages covering last 3, 5 and 10 games split by Home and Away teams.  Statistics includes 1st Half, 2nd Half and Full Game)
Leagues included:

Spanish Primera
English Premier League
Italy Serie A
Portuguese Liga
Dutch Eredivisie
French Ligue 1
German Bundesliga
xG Core (Coming Soon)
Advanced stats and Poisson model across all major leagues.
Includes the same data and layout as xG Free but also includes:

Additional leagues:

English Championship
Italy Serie B
Brasileiro Serie A
Argentina Primera Division
Germany Bundesliga 2
Mexican Primera Division
Major League Soccer

Historical data to test out old strategies or create new ones.  Historical data coverage includes

Data from 2018/19 Season (Argentina Primera Division, Brasileiro Serie A, English League Championship, English Premier League,
French Ligue 1, German 2. Bundesliga, German Bundesliga, Italy Serie A, Major League Soccer, Mexican Primera Division, Portuguese Liga, Spanish Primera Division)

Future Data:

xG Predictions for the entire season (NB: future predictions will change as actual results are added into the model).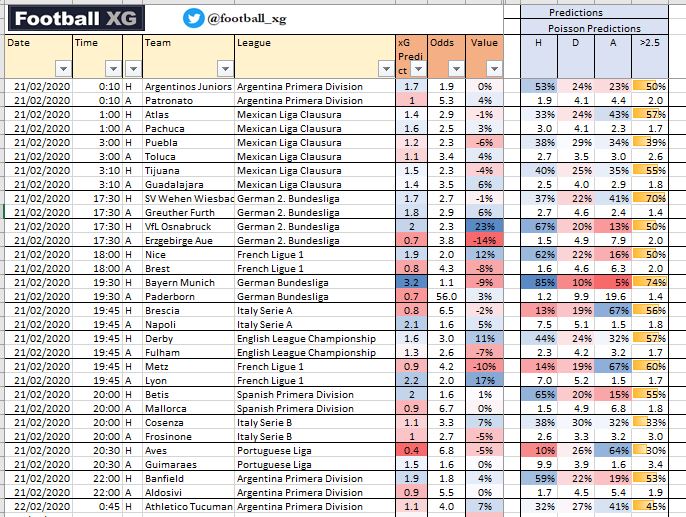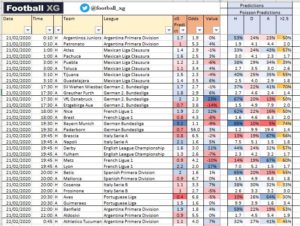 xG Pro (Coming Soon)
Advanced stats and 4 Poisson models across all major leagues.
Provides all the features of xG Core, plus:

5 individual xG models based over a range of short and medium term historical data.

xG Blend (model included in xG Core and xG Free – a blend of M2, X10, X2 models)
M1 Model (Model based on actual goals, expected goals, team strength and a number of additional inputs)
M2 Model (Model based on expected goals, team strength and a number of additional inputs)
X10 Model (Model based on expected goals over the medium term).
X2 Model (Model based on expected goals over the short term).

Additional statistics including:

Tissue Odds based off historical odds.
Likelihood of team winning when scoring or conceding first.
Poisson output including 'win to nil', +-1 goal handicap.
Beta: Opening and closing odds, odds moves.

Additional leagues:

Subscription money will be invested back into the website via the addition new leagues xg data.

"NEW" Stand alone 'In-Play Odds Calculator' (IPOC):

Enter the current score and minutes and the calculator provides the fair odds for a range of markets.
The calculators odds can then be compared to actual in-play odds to help identify value in the in-play markets.

Access to FootballxG Telegram group for dedicated support (technical and strategy)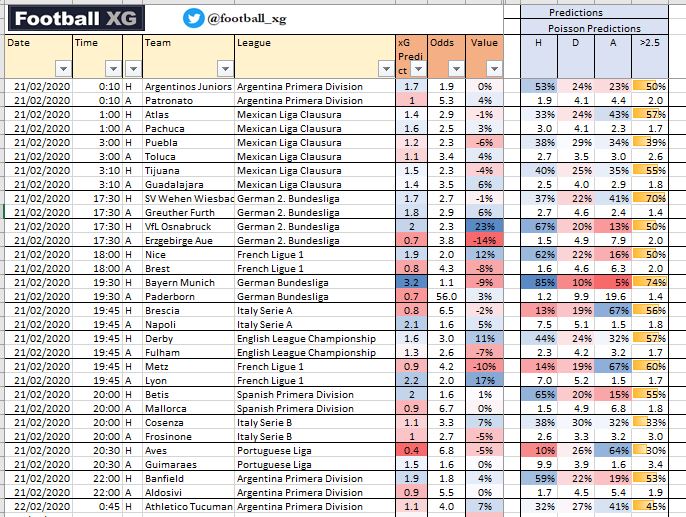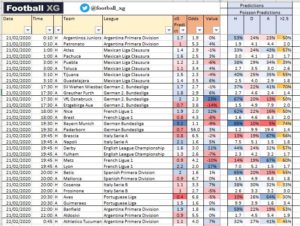 Excel team power ratings and historical odds profitability
Team power ratings based on historical goals.
Power ratings then converted to odds to look for potential value in games.
Profitability by teams and leagues when odds fall within ranges of the current Home and Away Odds Prices.
Data updated twice a week including provisional odds for the upcoming games (odds can then be manually overridden as needed).
Beginner Poisson model also included.
Visit the PROP Model page for more details